Valentines Day Themed Cuckoo Clocks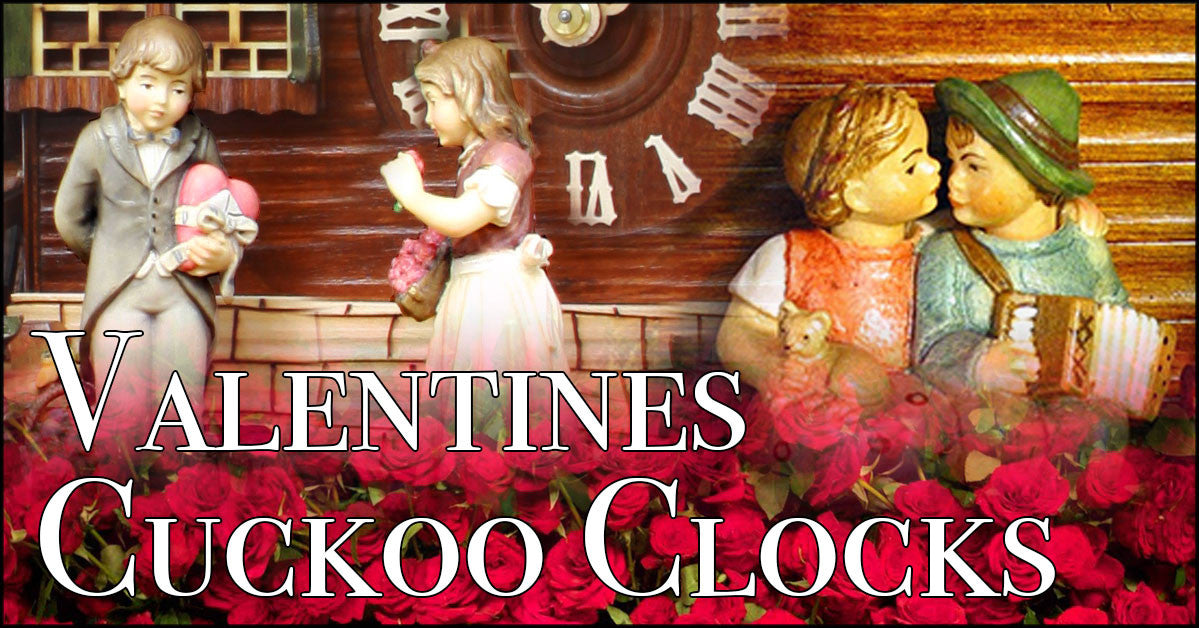 Ever thought of getting him/her something truly unique for Valentines Day? Look no further! Because nothing says "I love you" more than the sweet call of a cuckoo bird...or at least that's what we think!
Following is a collection of our most romantic and Valentines-worthy modern and traditional cuckoo clocks that are certain to brighten up any room in your house and give it that "lovin' feelin'". So, in no particular order, here they are:
#1 - Romantic Couple Cuckoo Clock
"Love is in the air"

- John Paul Young
Dressed in his finest attire, a hopeful young lad awaits the gaze of a pretty young lady. Clutched to his side, a heart-shaped box; yet she seems far more impressed by the smell of a single flower from her bouquet. Ah, unrequited love... and yet hopeful he remains. 
See the complete cuckoo clock here: Chalet style 8-day movement cuckoo clock with romantic scene 52cm by Rombach & Haas
#2 - Black Forest Couple Cuckoo Clock
"Those who love deeply never grow old; They may die of old age but they die young"

- Benjamin Franklin
The forest is still, the air cool, and as the sun sets over the green hills, this cute elderly couple sit peacefully, in sweet solitude. See this cute elderly couple in two different peaceful settings here and here. Or, if that's not quite to your taste, see the same couple just 'hanging-out' on the edge of a very colourful cuckoo clock with a bejeweled cow! 
Black Forest couple cuckoo clock: Chalet style 1 day movement cuckoo clock black forest house with turning mill wheel 31cm by Rombach & Haas
Black Forest couple cuckoo: Chalet style 8-day grandparents cuckoo clock with music 44cm by August Schwer
#3 - Kissing Couple Cuckoo Clock
"Give me a kiss to build a dream on and my imagination will thrive upon that kiss. Sweetheart I ask no more than this; a kiss to build a dream on"

- Louis Armstrong
'August Schwer' have been making cuckoo clocks in the Black Forest since 1885 and these two beautiful specimens are a great example of their artistry and ingenuity. In this cuckoo clock scene, the couple sits upon a bench looking forward. Then on the hour, as if timed to a beating-heart, these automatons turn their heads and kiss as the cuckoo calls - what a splendid mechanical feat and a endearing sight to behold! 
Kissing couple clock with music 36cm: Chalet 1-day kissing couple cuckoo clock with music 36cm by August Schwer
Kissing couple clock with music 52cm: Chalet 8-day romantic kissing couple with music 52cm by August Schwer 
#4 - Love Birds Cuckoo Clock
"A bird doesn't sing because it has an answer. It sings because it has a song"

- Maya Angelou
A 'Valentines Day' list would be complete without the addition of the classic 'love birds'. Depicted so well in this 8-day cuckoo clock, these two carved love birds entwine atop this beautiful 32cm-tall carved walnut cuckoo clock. 
See the two love birds: Carved 8-day Love birds cuckoo clock 39cm by August Schwer
#5 - Heart-Shaped Cuckoo Clock
"I want a love so explosive that it blows the lid off my heart-shaped box" - J. Iron Word
Red - the colour of passion, excitement, love. And what better way to express your love than with this passionate heart-shaped cuckoo clock: a reminder of your love and sure to become a cherished object by your beloved. Also a great example of the chic cuckoo clocks within our modern cuckoo clock range, this cuckoo clock will go well in most modern homes. 
See the heart-shaped cuckoo clock: 'Cucu cuore' cuckoo clock (Red) by Pirondini 
So if you're looking for a gift for the eccentric or nostalgic love in your life, look no further than these romantic cuckoo clocks - or check out our full range of both traditional and modern cuckoo clocks. 
Cuckoo Collections is here to help you find the perfect modern or traditional cuckoo clock for you or as the perfect gift. If you have any questions us at hello@cuckoocollection.co.uk.
Leave a comment
Comments will be approved before showing up.