Retro cuckoo clock designs: A throwback to the 60's and 70's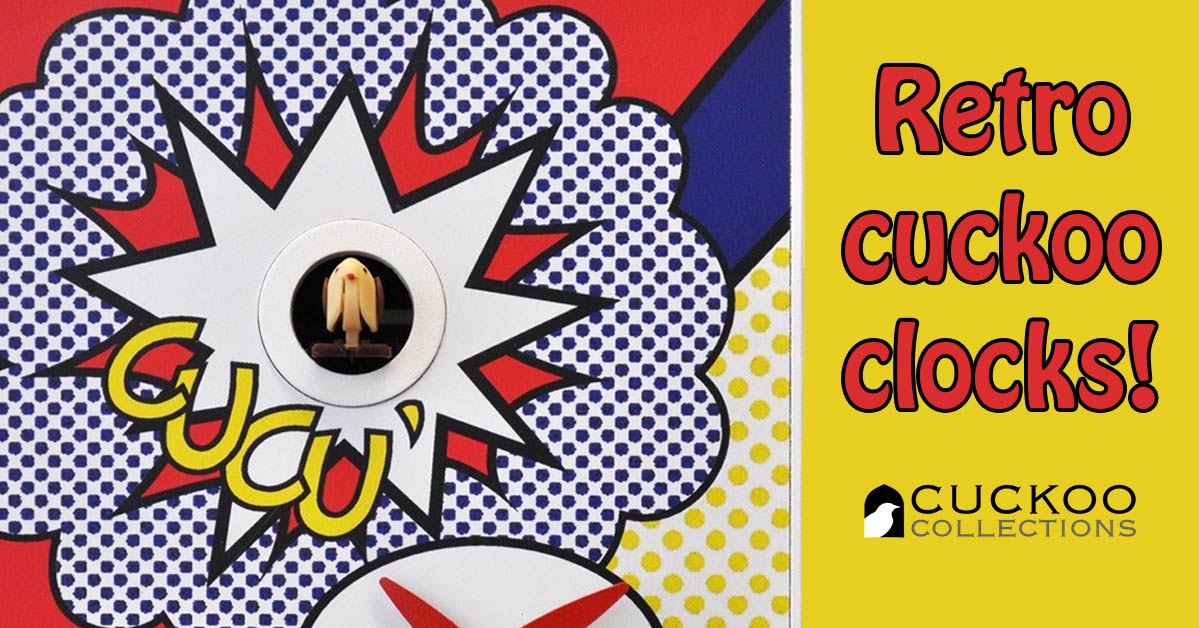 Styles are cyclical in nature and as trends come and go we take the good (and sometimes the bad) with everything in between.
An iconic period in cultural history are the 1960s and '70's. A time of revolution - in civil rights, in expression, in technology, in art/music and culture. People will remember the iconic sounds of this time such as The Beatles, Bob Marley, Bob Dylan, The Rolling Stones, ABBA etc. But there are also the visual elements of this period which stick in peoples minds with the psychedelic imagery of the counter-culture, Andy Warhol, bell-bottoms & paisley shirts, bright-coloured Day-Glo fabrics, and retro furniture. But for those who were born too late to experience these golden years, try have a dig through your old folks' attics and basements, and you might be surprised to find objects from the retro days of old that might be worth dusting off.
We at Cuckoo Collections just love all things retro, and considering the emphasis on aesthetics put into clocks and wall art, we offer a wide range of modern cuckoo clocks, many with a retro-style. Hand-built by our clockmakers in Germany and Italy, these modern cuckoo clocks are a great addition to any home with a bit of character. The beauty of our range is that there is a clock for every look, to compliment any colour scheme. Hang one on a bare white or coloured feature wall and your living room will become alive with the sound of a cuckoo bird.
Playing with bright colours and bold shapes 
In the 60's and 70's, advances in materials and production techniques meant that the wild changes in fashion and design could be brought into the world of consumer goods. An interesting example of these bold design choices, can be seen with 1950's refrigerators which traditionally came in the classic plain white. But as manufacturers began taking note of changing consumer trends they began producing coloured versions with candy-coloured hues such as the popular harvest gold and avocado green. Today, we find many manufacturers bringing back these bold 'Kandinsky' and 'Warhol'-inspired colours with a retro range of products.
That distinct vintage feel
Vintage furniture and décor has never lost its allure and luster, and you'll see them continuously gracing magazine spreads and in eye-catching Instagram posts, beautifully integrated in today's modern design styles. Lava lamps, bean bags, pod chairs, corduroy fabrics, vespa scooters and many more have flocked the Millennial pads and equally DIY enthusiasts hacking, reviving, and replicating these novelty items. Some of our cuckoo clocks are a throw-back to these retro styles not just in colour, but in shape and texture. 
An ode to the artists of the 60's and 70's
Italian clockmakers Pirondini are known for their advances in modern cuckoo clock design, with an ever-changing catalogue of bright and unique cuckoo clocks. In their D'Apres range, they pay homage to artists throughout the ages and even some from the 60's and 70's.
In conclusion
Modern cuckoo clocks are just one of the many home appliances that are getting a retro resurgence but you'll find them an amazing addition for your home, as these novelty items showcase both human ingenuity and artistry. That human touch and slice of history are what make them such sought after pieces. Aesthetically pleasing, functional, and with styles that are adaptable to the times, designer cuckoo clocks are definitely here to stay and will continue to fascinate the generations to come. 
Leave a comment
Comments will be approved before showing up.