The Black Forest: Myths, Legends and Tripadvisor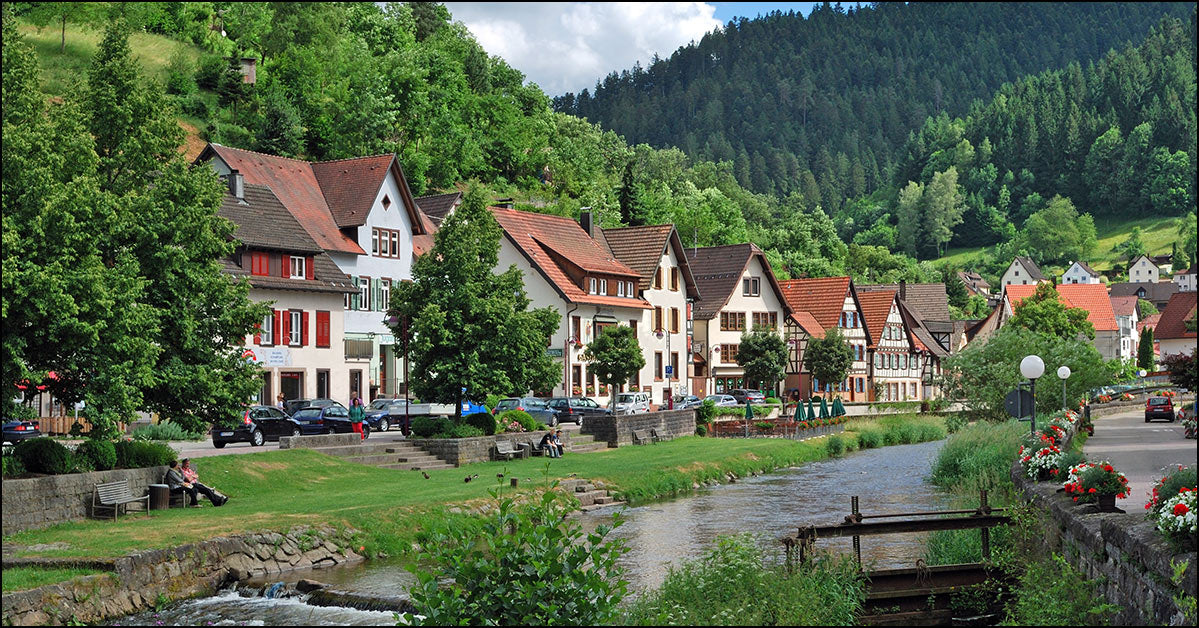 Gather around the fireplace you weary travellers, take a sip of your glühwein (German mulled-wine) and a bite of your Berliner (German donut), and listen to the story of the 'The Black Forest', an ominous sounding place said to be inhabited by nymphs, goblins and witches. But, my friends, the truth is much more enriching. The Black Forest is in fact a beautiful landscape of high mountain ranges and deep alpine valleys, covered in thick forests, winding clear streams, and dotted with quaint mountain villages. 
A truly ancient forest, the Black Forest is home to the famous Black Forest cuckoo clock which, as the story goes, was invented there by Franz Anton Ketterer around the 1730's. The mountainous region, thick with native pine trees, oak, elm, beech and at higher levels, spruce trees, is a famous tourist destination and is brimming with history and folklore. One can find beautiful monasteries, castles and ruins dotted throughout the landscape, picturesque villages with boutique markets, and an abundant number of hiking-trails. 
The name 'Black Forest' (or 'Schwarzwald' in German) is said to come from the fact that the thick forest canopy, in some areas, blocks most of the sun. So much so, that the Black Forest is said to have been the inspiration for many 'Brothers Grimm' stories such as 'Hanzel & Gretel' and 'Rapunzel'. But don't let the name fool you, venturing through and around the Black Forest you'll find amazing sun-lit landscapes. 
The Black Forest region is a heart-warming place with lots of activities to please young and old. The regions of the Black Forest, such as Baden-Baden, Karlsruhe, Triberg, and surrounding areas are known for their relaxing spa's, boutique shops, hiking trails and delightful German cuisine such as the 'Black Forest cake'. For the not-so-faint-of-heart you can organise a tree-top climb or a mountain-side 'alpine coaster'.
Or for the horologists amongst us, a visit to Baden-Wurttemberg region in the Black Forest will not disappoint, with the one of the world's largest working cuckoo clocks at the 'House of Black Forest Clocks', a walk through the history of clocks at the 'German Clock Museum', and a huge range of various clocks at the 'House of 1000 Clocks'. Along with this, be sure to drop into one of the many cuckoo clock makers in the region, such as August Schwer, Trenkle Uhren, Rombach & Haas, Hubert Herr and many many more. 
So pack those bags and fire up your Tripadvisor app! For a slice of history, nature and a little bit of fantasy, the Black Forest region in Germany is an amazing get-away destination for families, couples or adventurers alike. 
Leave a comment
Comments will be approved before showing up.